ProVeneers™: Easy, Affordable, Effective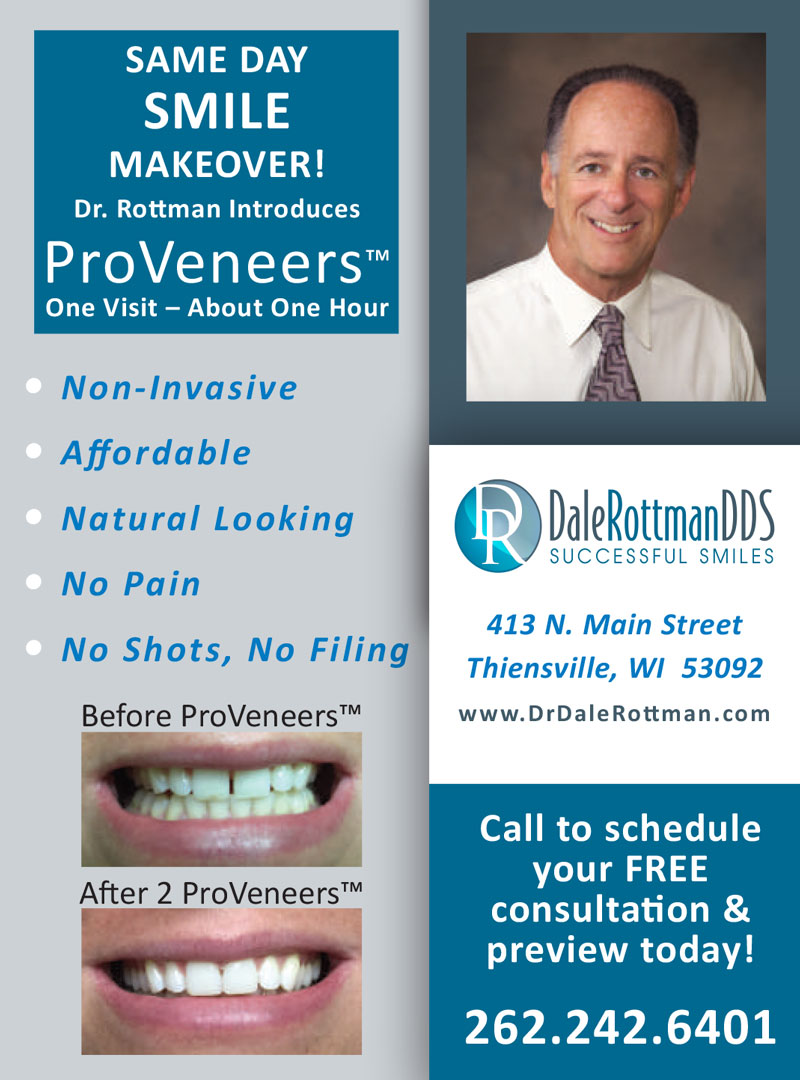 The office of Dr. Dale Rottman, D.D.S. is proud to offer ProVeneers™ veneers, a true breakthrough in Cosmetic Dentistry from the Silverman Institute. The patent-pending ProVeneers™ system is a simpler approach to transforming your smile for a fraction of the money and time that is involved with traditional porcelain veneers. Here are just a few of the advantages.
Easy, Pain-Free Application
ProVeneers™ veneers give new meaning to the words, "gentle dental". They do not require healthy teeth to be filed down to prepare them for application. There are no shots, no drilling, and no waiting for a fit to come back from a lab. In a single, one-hour visit, your Thiensville dentist can apply up to four veneers.
Beautiful, Natural-Looking Veneers
The ProVeneers™ system can easily close unsightly gaps and lengthen a tooth to evenly match its neighbors. The veneers are translucent and as thin as a contact lens, making tedious tooth shade matching a thing of the past. Best of all, patients have the opportunity to try on a veneer and see how it transforms their smile before the procedure is actually performed. That means no unpleasant surprises, and most patients walk out of our gentle dental clinic with a smile that they love!
Superior Affordability
Because the ProVeneers™ system is so simple, there are no multiple fitting appointments, computer imaging procedures, impressions, or temporary veneers involved with the process. That brings overall cost down, allowing you to receive the cosmetic dentistry treatment your smile needs at a significant savings over other methods.
If you're interested in ProVeneers™ veneers, contact our gentle dental clinic today and we'll be happy to answer all your questions. You can also read more about this exciting new system at the Silverman Institute of Cosmetic Dentistry.