Your Menomonee Falls Dentist & Orthodontist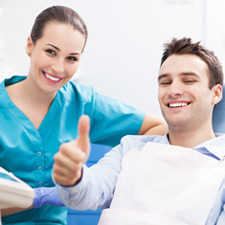 Successful Smiles has been serving Menomonee Falls with the expert services your teeth need and the gentle dental treatment our patients appreciate. Dr. Dale Rottman is a dentist and orthodontist who understands that the personal touch is just as important to the practice of dentistry as all of his experience and education. Your comfort is our top priority, and we go to great lengths to ensure that every visit to our Thiensville office is a pleasant one for you. Our professional staff is dedicated to providing friendly and effective dental care, and we're happy to see you every time you walk through the doors of our dental clinic.
Dr. Rottman and the Successful Smiles team is prepared to handle any and every dental situation. From regular checkups and cleanings to reconstructive oral surgery including crowns and bridges, dental implants, and TMJ treatment, we have the tools and the skills to protect your oral health. What's more, we want you to love your smile, which is why we offer a wide array of cosmetic dentistry services, including teeth whitening and dental veneers. Dr. Rottman is the orthodontist that adolescents can count on to make sure their smile develops correctly as they continue to grow. With PowerProx® 6 month braces, this process is faster and easier than ever before.
A Recognized Leader of Expert Dental Care
Dr. Rottman DDS and the team at Successful Smiles have recently been presented with two different awards for Top Dentist in the Thiensville area. Go here to read more about the honors we have received!
If you live in Menomonee Falls and are looking for a quality dentist, get in touch with Successful Smiles today! We offer $100 of the first visit to new patients. Our doors are open; come find the dental care you're looking for with us.